Pergolas/Gazebos
Outdoor living spaces – like pergolas and gazebos – are ubiquitous in many parts of the state precisely because of its climate. There are times that the temperature in Nevada is too hot or humid which can affect the property owner's outdoor experience. By having these shade structures in your landscape, you can go out and have fun with your family and friends without getting unwanted tan.
Stunning Pergolas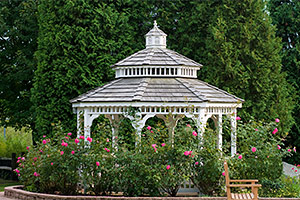 Among the best ways to turn the humid climate into your advantage is to have pergolas built in strategic areas in your property. These freestanding outdoor structures effectively serve as extensions of your living room and can provide you with excellent bonding opportunities with people close to you.
Pergolas can turn unused spots in your outdoors into areas bursting with possibilities for rest and recreation. We can train vines to creep the posts and rafters to serve as roofing that can provide shade and protect against wind or snow. The same vines can also add decorative touch to the structure and make it appealing to onlookers.
Additionally, pergolas can serve as activity areas where you can serve refreshments or even hold barbecue party with your closest pals and your family. When combined with other structures in your yard (such as a gazebo or veranda), a pergola can serve as an attractive portal to these other amenities. It could also be positioned in such a way that it will obscure spots in your property that you consider as unsightly or off-limits to visitors.
Exceptional Gazebos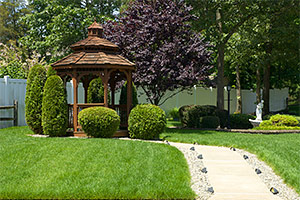 Another wonderful outdoor amenity that you can have for your property is a gazebo. Gazebos have been providing lots of wonderful benefits for thousands of years, and can be seen in almost every continent.
Just like pergolas, gazebos are outdoor structures that provide protection from the sun, wind, snow, and rain. They can be made of concrete, wood, marble, granite, wrought-iron, aluminum, or steel and can be shaped according to the owner's desire. They can also be fashioned to match a certain theme like Japanese, African, Victorian, Old World, and Modern/Contemporary.
Gazebos can also be built in an open type way or installed with screens for privacy and protection. They can serve as activity area and can double as an outdoor dining spot.
Choosing the Right Builders of Pergolas and Gazebos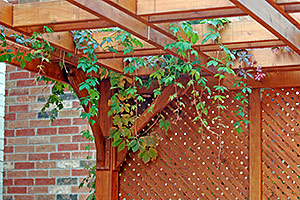 Investing in the design and installation of pergolas and gazebos will require a considerable amount of money and effort. It is thus important to be sure that you hired the best contractors in the state of Nevada.
We at Advanced Lawn and Landscape happen to be among Nevada' most trusted builders of stunning outdoor living amenities like pergolas and gazebos and we have dozens of satisfied clients as solid proof. We have experienced carpenters who are professionally trained and laden with experience handling such projects. We also use properly treated and premium quality wood such as pine, oak, and maple. With the help of our design and build team, we create unique structures that can make any ordinary-looking outdoors extraordinary in many sense.
Please
call
Advanced Lawn and Landscape today.
Cities that are served in Nevada (NV):
Reno, NV
Carson City, NV
Lake Tahoe, NV
Sun Valley, NV
Sparks, NV
Truckee, NV
Nixon, NV
Wadsworth, NV
Fallon, NV
Dayton, NV